Friday March 9, 2012 – Friday March 9, 2012
Eisenhower Park
Map and Directions | Register
Description: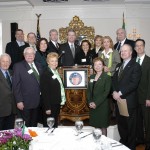 You are cordially invited to attend the 16th Annual St. Patrick's Day Luncheon sponsored by Irish-Americans in Government on Friday, March 9, 2011 at 11:30 a.m. at Carltun on the Park, Eisenhower Park, East Meadow.
We are pleased to honor the Feis committee of the Nassau County Board of the Ancient Order of Hibernians.  The A.O.H. Feis and Irish Festival provide a forum for the celebration of Irish culture and custom.  We are also proud to sponsor the St. Patrick's Parade hosted by the Irish American Society of Nassau, Suffolk and Queens.  The parade will celebrate its 66th anniversary with a new route through Mineola ending one block south of the center on Jericho Turnpike, Mineola.
Tickets for the event are $65.00 and may be purchased by sending the tear-off below with a check before February 29, 2011.  Due to the support this luncheon has received in prior years, an early response is suggested to guarantee seating.
In the true Irish spirit of friendship and hospitality the event is open to all and one need not be Irish or in government to attend.
We look forward to seeing you on March 9, 2012.
[ESPRESSO_VENUE id="1″]