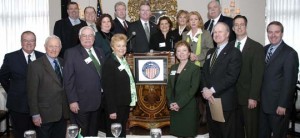 Irish-Americans in Government is a benevolent organization founded in the spirit of recognizing and celebrating those of Irish heritage who are responsible for and whose contributions have played and continue to play a role in the growth and development of the United States of America through government service.
Founded on September 23, 1996 by The Honorable John B. Kiernan and The Honorable John P. Dunn, Irish-Americans in Government counts over 300 members who contribute to the annual events.
Irish-Americans in Government is proud to promote the many contributions the Irish have made to America and is committed to ensuring that the Irish traditions will continue.
It is through two annual events that Irish Americans in Government raises funds that are redistributed to organizations of Irish heritage and to a scholarship program.
The Annual St. Patrick's Day Luncheon raises funds that are distributed to local organizations including the Nassau County New York Ancient Order of Hibernians, Catholic Charities, Project Children, Special Olympics and The Food & Nutrition program.  The Annual Scholarship reception raises money that is donated to graduating high school seniors who intend to pursue their education.  The scholarship program focuses on assisting those youth who have demonstrated or participated in Irish activities that promote the Irish culture.
Irish-Americans in Government is volunteer organization with no paid staff.  The board of directors and officers do not accept any gratuities for their service.